Cool Coworking Space Spotlight
Blush Cowork and the serious business of working parents
---
Like many an entrepreneurial origin story, Alison Rogers struggled with unmet needs. As a working parent with two small children, she had less than empathetic bosses who didn't understand her dip in productivity when her kids were home with her.
"Until one day, one of my managers took care of his grandson for three days. He immediately called me to apologize," she recalled.
What Rogers and many working parents needed was simple but hard to find: a safe, reliable source of childcare.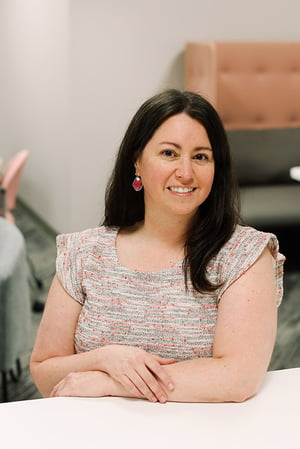 Flexibility is great when it comes to work hours, but less so when children have teacher workdays, track out weeks, or long holiday breaks. Not to mention when a global pandemic shuts down schools, camps, and daycares.
Rogers and her former partner envisioned a space that solved that problem for working parents: drop-in style childcare. Not unlike what many fitness centers offer, where the parent can be assured their child will be cared for and entertained, then go find a quiet workspace, table, desk, or conference room to be productive and professional.
You'll find all those at Blush Cowork & Childcare.
Situated in the sprawling suburb of Cary, North Carolina, Blush Cowork welcomes members, guests, and day pass users to a modern, well-thought out facility that feels both spacious and intimate. Conversation nooks invite 1:1 chats, roomy tables offer easy access to power outlets, a private, outdoor patio is an oasis of green. And the childcare space is welcoming, warm, and, most importantly, separate. Plus the entire working area is flexibility designed to switch confirmations for events, presentations, meetings, and training sessions.
"We host a wide variety of events, both for our members and by outside organizations," Rogers said. "We have headshot events, book clubs, speaker summits, plus our own line up of Happy Hours, Empower Breakfasts, and 'Lunch and Unlearn' workshops."
Blush partners with a national childcare provider called Platinum Sitters, ensuring that all personnel are fully vetted and trained, and that absences and holidays are automatically covered. And members are empowered to schedule what they need, when they need it, using the Blush member app (powered by Coworks).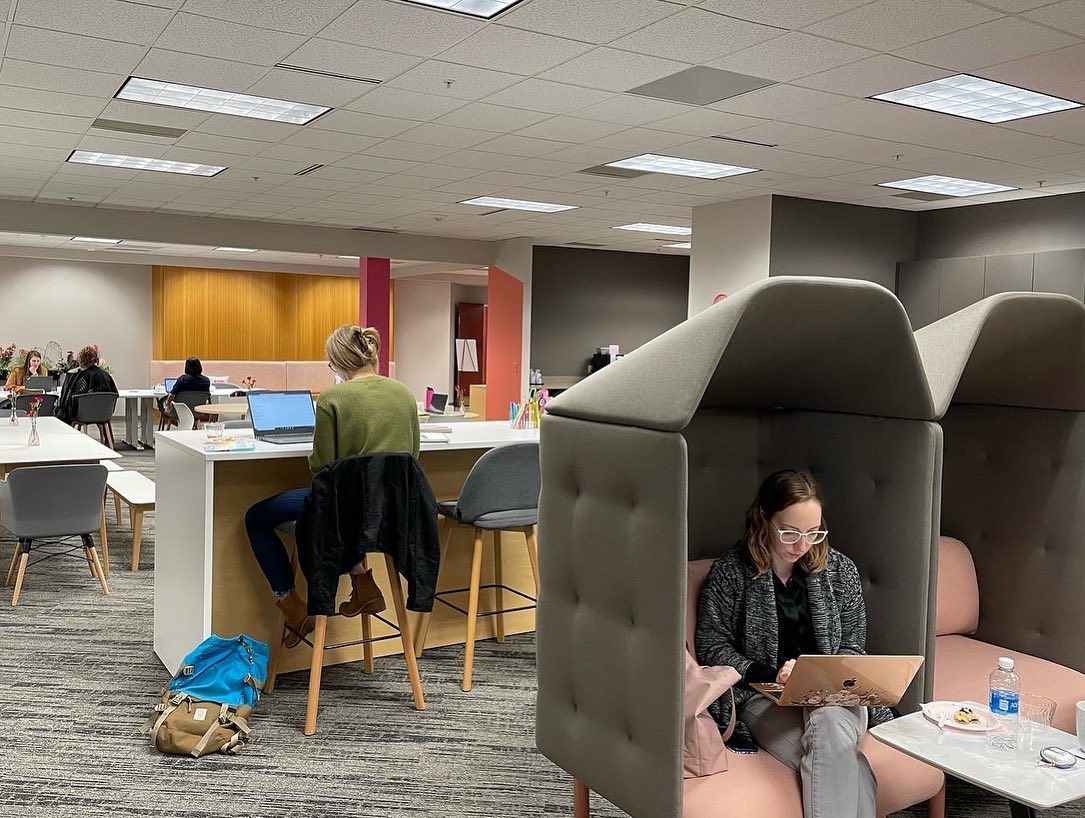 "Members use our app for everything, but especially to book childcare," Rogers said. "It's easy and fast."
Yes, Blush Cowork is women-focused. But it is not women-exclusive. "Fathers love our space as well. We get day pass users from all over, business travelers who come through Raleigh-Durham International Airport and need a headquarters or workspace for a short time period. Everyone is welcome," Rogers explained.
As return-to-office conversations continue to evolve, Rogers sees Blush Cowork and operations like it playing an important role for working parents and their employers in the Triangle area of North Carolina, as well as around the country.
"I'm already talking to companies who want to sponsor their employees in our community," she said. "CNBC named North Carolina as America's Top State for Business in 2022. Companies that move here or establish operations in the area have a pool of top talent they want to attract. And now they aren't limited to traditional commercial real estate leases. Flex spaces like Blush Cowork are differentiators because they meet people where they are: wanting to do good work, be productive, and balance caring for their families."
58% of working parents with children five years old and younger — or about 6.38 million parents across the nation — use center-based child care options, according to estimates from the National Household Education Survey. But any parent will tell you how hard it is to find a local, convenient child care resource, and that cost and time limits prove additional challenges.
"The Harvard Business Review did a national panel survey of 2,500 working parents last year," Rogers noted. "They found that nearly 20% of working parents had to leave work or reduce their work hours for one reason: a lack of childcare. And only 30% of all working parents had any form of back-up childcare. We don't need companies to become childcare centers, but we do need employers to actively support parents. We're here to help."
Working parents in Cary, North Carolina and the surrounding area can attest: Blush Cowork is truly a model for the future of work.